Wondermuziekkamer is an interdisciplinary event that creates a dialogue between a baroque trio and an interactive installation. The exhibits of the cabinet are imaginary animals, imposing objects, landscapes of faraway lands and documentations of natural history, as well as music for two violins and harpsichord. The compositions are a selection of stylus phantasticus sonatas of the 17th century, played on period instruments.
The event is a contemporary adaptation of the Cabinet of Curiosities: in the baroque times, a wealthy sophisticated socialite would obsessively collect objects and exhibit them- these objects would grant the appearance of knowledge, social status and at the same time inspire awe in their peers.
In our adaptation, we use animatronics, video projections, paintings and interactive props, alongside live music. The installation and the music create an interactive network, and together they narrate the story of the collection. We invite our public to join our Wondermuziekkamer and re-imagine this story through the aesthetics, symbols and meaning of our contemporary view.
Wondermuziekkamer is funded by Herstelgeldfonds Gemeente Utrecht in collaboration with HKU Utrechts Conservatorium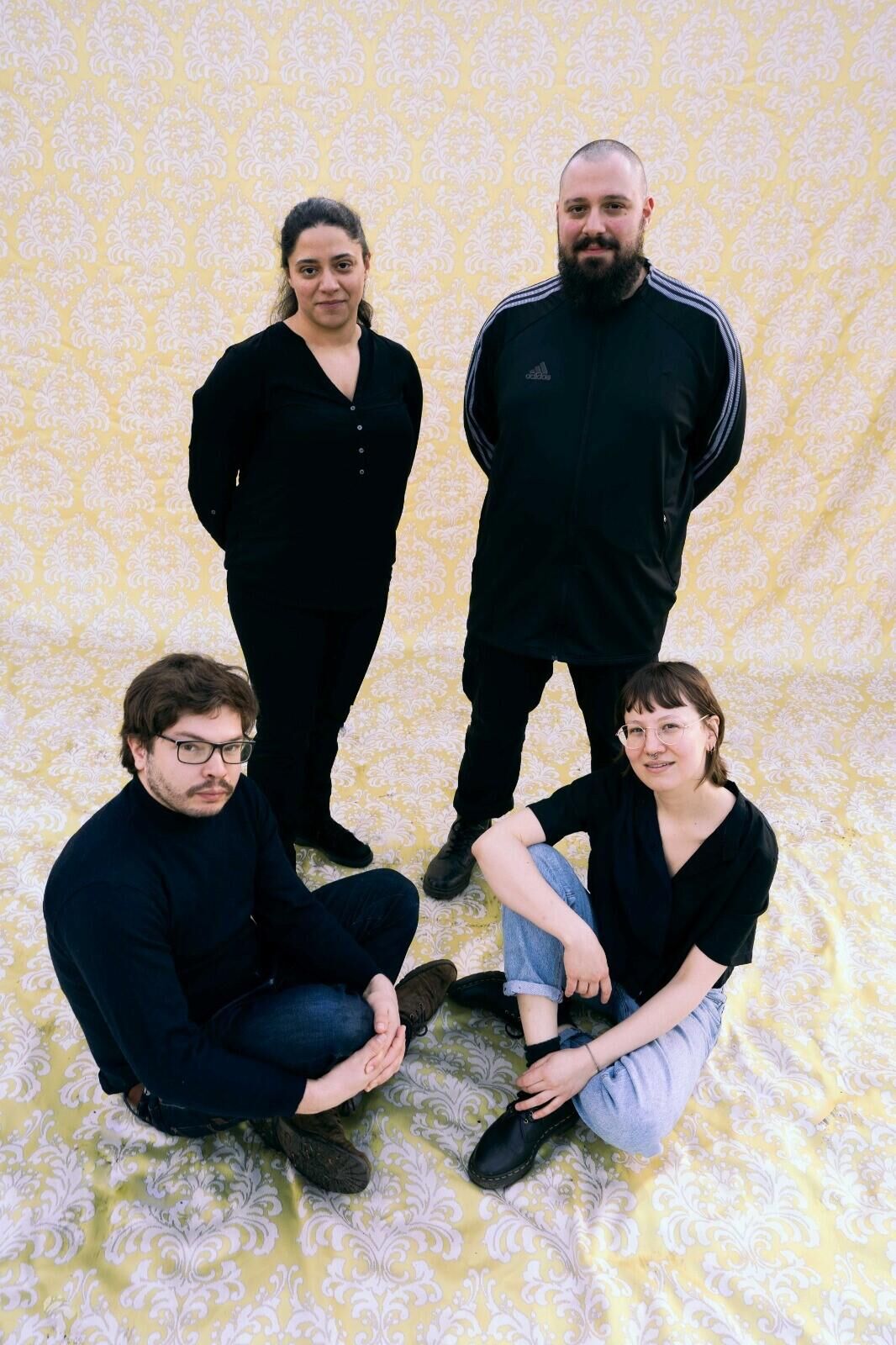 concept and installation - Ion Kazantzidis musicians - Dialoghi trio (Dionysia Kazantzidi, Nefeli Alexouli and Sevastianos Motorinos)
Ion Kazantzidis is a multidisciplinary artist and curator, currently sharing his time between Amsterdam, the Netherlands, and Zakynthos, Greece. Since 2017, he is a master graduate from the Athens School of Fine Arts. During his Studies and until 2020 he has been the co-founder, art director and administrator of the collective project BLNK, responsible for cross-disciplinary events in Athens, Greece and Berlin, Germany such as: Tsiknotekno (2014-2019), an annual art-rave, Blakbox (2018-19), a series of hybrid art experiments in Athens and Berlin, and Toddlers a playground by BLNK (2019) a three day, interactive art festival and adult playground, funded by Burning Man from Nevada, USA and presented in Athens, Greece.
As a solo creator he has exhibited in numerous venues in Greece such as Romantso, Loft in Athens and art galleries and museums like Gregoriades, Camp Athens, the roof tiles and brickworks historical museum Tsalapatas in Volos and in Vonitsa's cultural center. His artwork can also be found in the art café Mahogani in Zakynthos, a cultural space owned by him and his two siblings. Ion Kazantzidis is currently working on a series of large-scale paintings that draw their subject from the work of Dutch painter Hieronymus Bosch.
Ion's art is based on humor and is strongly influenced by pop culture but also by traditional mythologies. He always tries to criticize and evaluate deep rooted social norms and structures such as racial stereotypes, gender identity, sex and religion, while joking about what is considered too serious or holy. These ''jokes'', as he describes them, aim to make people laugh but also trick them into second guessing their motive. Feeling guilty or uncomfortable is a way for him to learn and this is what he expects from his audience as well. In order to do so, he directs safe spaces or circumstances where people can forget about their inhibitions as they are drawn into a playful experimentation.
Dialoghi trio is an ensemble based in Utrecht comprised of two violinists, Nefeli Alexouli and Dionysia Kazantzidi, and harpsichordist Sevastianos Motorinos.
The ensemble was formed in 2020 and is specialized in 17th century repertoire performed on historical instruments, specifically in compositions written in the stylus fantasticus: a style that is free of form, providing opportunites for improvisation to the players.
Dialoghi trio has performed since its formation in concert locations in the Netherlands, such as the Oud-Katholieke kerk in Amsterdam and Tivoli- Vredenburg in Utrecht.
Alongside that, the ensemble has an interest in contemporary music written for historical instruments, initiated by the composition written by Sevastianos Motorinos specifically for the trio. Moreover, Dialoghi trio is invested in interdisciplinary collaborations between music and different art forms.
Dionysia Kazantzidi is a baroque violinist, active in the Netherlands and abroad. From 2005 till 2016 she studied the violin in Athens Conservatory and the Conservatory of Phillipos Nakas. Following her growing interest for the Historical Informed Performance Practice she moved to the Netherlands in 2016 to study the historical violin in Utrecht Conservatory. Dionysia chose to specialize during her master studies in the repertoire for violin and string ensembles from the seventeenth century. She is active with various ensembles such as Dialoghi trio and Amaracus ensemble, of which she is also one of the founding members.
Nefeli Alexouli began studying music in Athens. Deciding to move to the Netherlands and study in depth HIPP, she is studying in HKU Utrechts Conservatorium, with Antoinette Lohmann, while taking part in project orchestras with historical instruments, as a violin or viola player.
Sevastianos Motorinos has performed among others at: The Athens Music Hall, the Alternative Stage of the Greek National Opera, Athens Baroque Festival, Utrecht early music festival – Fringe, St. Petersburg Chamber Opera, TivoliVredenburg.
In 2020 he graduated from his harpsichord studies in the Ionian University - Department of Musical Studies. During his studies, he did an exchange program at the Utrecht Conservatory and later at the Royal Conservatory of The Hague. Currently, Sevastianos is a master's student in the HKU Utrecht Conservatory. He has attended several masterclasses as an active member.
He was finalist in the Gianni Gambi Harpsichord Competition 2022 in Pesaro. He won "Prix spécial Or" in the Paris international Music Competition 2019. Also, he was in the finals of Rheinsberger Hofkapelle competition 2022 with the ensemble 'Decameron'.